Peyronie's Disease Treatment
What is Peyronie's Disease?
Peyronie's disease (more commonly known as penile curvature or penile induration) is a condition where men can suffer embarrassment, painful erections or even trouble having sexual intercourse due to the penis being noticeably bent when erect.

Peyronie's disease (named after French surgeon François Gigot de la Peyronie) is usually formed by a buildup of plaque which is essentially a patch of tissue on the penis that is made up of scar tissue. The plaque which often resembles a hard lump, forms on one side of the penis, often the bottom side, within the tunica albuginea membrane (the membrane that surrounds the erectile tissue region of the penis).
What are the causes of Peyronie's disease?
Sadly medical science is yet to discover exactly why the plaque that is responsible for Peyronie's disease forms. The affliction in a small number of cases seems to be related to some injury or trauma to the penis, but of the vast majority of sufferers there seems to be no correlation to any particular reason they have developed the disease.
What are the Symptoms?
The symptoms of Peyronie's disease can be psychological as well as physical in nature. Cases of Peyronie's that appear to be a result of a physical injury can appear over night. Most commonly however, the disease progress's extremely slowly with some rare cases even resolving themselves in time.
Peyronie's Disease Treatment – what are the options?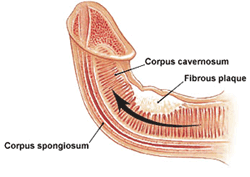 There are a number of Peyronie's disease treatment options available today for sufferers of the disease. Indeed some sufferer's condition simply clears up on it's own, but for the majority the symptoms remain and in many cases become more sever.
Whilst Surgery has always been the more radical Peyronie's disease treatment many doctors are now looking toward more non invasive solutions, in particular physical therapy as not only is a surgical option expensive or radical, patient dissatisfaction post surgery is often very high, due to shortening of the penis from increased scarring.
The two main methods of physical therapy include manual stretching techniques and the use of stretching or traction devices, often used for penis enlargement and to treat erectile dysfunction. Many men suffer from the emotional strain that having a curved penis can cause, due to embarrassment or pain, many men choose to avoid sexual contact altogether, this often leads to sufferers becoming withdrawn and depressed.
Peyronie's Disease Treatment – will it make my penis bigger?
One of the reasons many men have concerns over their curved penis, resulting from Peyronie's disease is they worry they may be losing some penis size, in particular length. Due to the curve of the penis, some inches are indeed lost, the good news is that the stretching devices will correct the curve and as a result the penis is longer, some times as much as a few inches. Added to this fact the traction or stretching devices used to correct your curvature are primarily used for penis enlargement that can stretch your penis by as much as 3 to 4 inches, the answer is a resounding YES, you will not only reduce the curve in your penis but lengthen it as well.
Video of the Leading Peyronie's Disease Treatment Device
So if your looking for a BIGGER and STRAIGHTER penis then check out the link below for the leading, quality, professional stretching device available.
References –